. . . has been passed along from N.Z. Bear to the Ace of Spades. During Robert Bluey's introduction, Ace sat with his face in his hands, looking as if he'd rather be anywhere else but in a group of his fellow homo sapiens. Bluey's introduction referred to Ace's distinctive verbal style, and referenced Hackbarth's description of Ace as "the Kurt Cobain of the blogosphere." (When I first heard that, I asked who, exactly, our Courtney Love might be. "I dunno," he told me. "Maybe Allahpundit?")
I was sitting next to James Joyner during the presentation. When Bluey remarked that "some blogs have made larger contributions than others," I hissed angrily "not true!" (Speaking of which, why is Ace getting the award, rather than me? There is such prejudice against blogs that do not actually get read.)
When it came time to speak, however, AoS gave a rather thoughtful set of remarks on why New Media is an important part of policy making, and drew a straight line between the history of policy debate in a town-hall setting and the Reagan Revolution, which rejected the notion—now so prevalent in Europe and elsewhere—that the political class can consider itself our "betters," and simply make policy decisions on our behalf.
We have, he reminded us, not simply an opportunity to inform ourselves about politics, but a "duty" to do so. Naturally, alternative streams of information will play a large role in that process.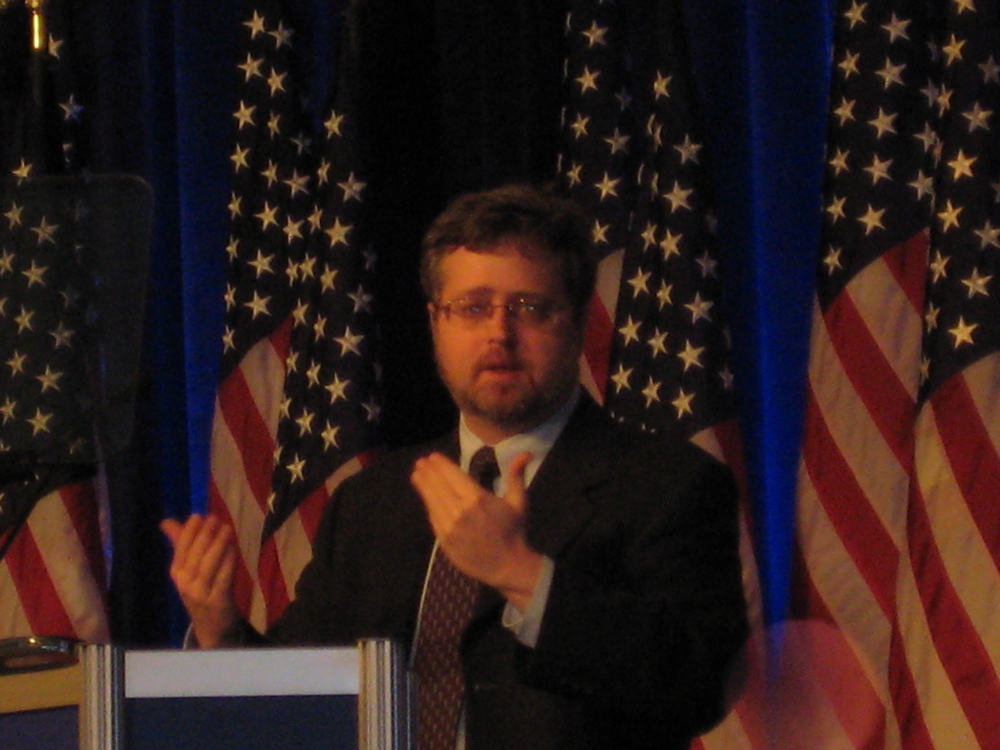 Ace to the political establishment: "we're the New Media, and we're here to help you."
UPDATE: More from Hawkins; a mention on Newsbusters. Karl at Stud/God of the Cerebrasphere Jeff Goldstein's site, Protein Wisdom, weighs in on the critical Allahpundit-as-Courtney issue.
UPDATE II The link to Protein Wisdom has been fixed, as a way of hinting to the ACU that Goldstein might just be next in line, depending on whether he actually posts a bit over the next year. Besides, he has better arms than Ace, and a bitchin' tattoo.