Who knew that the drilling platform I used to look at in Long Beach Harbor as a child—that exuberantly artificial island lit up with lights and featuring palm trees and fake waterfalls—is the third-most-productive set of oil rigs in the U.S.? It's only exceeded by one in East Texas, and the Prudhoe Bay facility in Alaska.
Gene Maddaus writes about Southern California's oil rigs for the Long Beach Press-Telegram:
We aren't being reminded that oil platforms can be anything but an eyesore, a repeat performance of the rigs off of Santa Barbara, or the Eureka platform south of Long Beach.
Arnold Schwarzenegger and the state's top Democrats remain opposed to new offshore drilling. But a poll last month by the Public Policy Institute of California showed a narrow majority of Californians—51 percent—in favor of offshore drilling, up from 41 percent last year.

Experts disagree on how quickly new offshore drilling could begin, and how much of an effect it would have on gas prices.

But oil industry veterans are adamant that allowing new drilling would help reduce dependence on the Middle East, and that the major oil companies could begin building new platforms almost immediately if the moratorium were lifted.

"They've got all the information in their files right now, and they could start the minute the Sierra Club shuts up," said Mel Wright, a geologist who has worked in the local oil business since the 1950s. "There'd be oil right straight off Venice for sure."
Um, like how far off shore? Visible from land? The article doesn't say, and of course it's a provocative little quote.
Because of the moratorium, such conflicts are dormant and controversies are relatively rare. Lifting the ban on offshore drilling would likely reignite them.

"I've been called everything from a son of a bitch to a liar," said John Carmichael, a retired oil man who has worked on getting approval for slant-drilling projects in Huntington Beach. "All that crap. You just have to smile. We got the permits, but it ain't pretty."

Still, where owners of beachfront property see scenic views and environmentalists see pristine natural habitats, oil geologists tend to see lost opportunities.

"I think we ought to exploit what we can," said Bill Garrison, a retired engineer. "Some people don't like to see a drilling rig operating out there, but it looks great to me."
Again: we are given to believe that new installations would be visible from the shore, which I rather doubt. Mostly, what I hear about are platforms that might be 11-12 miles out to sea. I'd like to know how they would affect surfing in Southern California—because that's a big industry here— and boating, as well. But those who write about this issue seem to want me to believe that the plans are to make them visible. And probably ugly.
Garrison and Wright are both veterans of the largest offshore operation in California – the THUMS oil islands in Long Beach Harbor.

Long Beach's THUMS

The THUMS islands (the acronym stands for Texaco, Humble, Union, Mobil and Shell) are a triumph both of engineering and politics. Long Beach voters approved the project in 1962, after years of controversy, on the condition that they add to the "natural beauty" of the harbor.

For that reason, they are decorated with palm trees and waterfalls and the drill rigs are disguised as condo towers. The operators proudly note they have not spilled a drop of oil since the facility opened in 1965.

The islands—named after Apollo 1 astronauts Gus Grissom, Roger Chaffee and Ed White, who died in the Apollo fire, and fellow astronaut Theodore Freeman, killed in a jet crash—draw from the vast Wilmington oil field, which stretches from Seal Beach to Torrance.

Over the last 75 years, it has been the third-most productive field in the United States, behind only Alaska's Prudhoe Bay and [one in] East Texas.

At 10 acres each, the islands can accommodate many more wells than a free-standing platform. More than 1,200 holes have been drilled from the four islands—almost as many as there are under the 27 oil [other] platforms off California combined—and they spread underneath Long Beach Harbor like a vast root system, to a depth of up to 1.5 miles.

They generate about 30,000 barrels of crude oil per day. Though production is slowly declining, Occidental estimates that the islands will keep generating oil for the next 30 to 50 years.

The rising price of oil may extend the life of the islands further still, by making it economical to explore in more marginal areas.

"The economic environment enables you to take more risks," said Frank Komin, president and general manager of the operation. "Because the price of crude is up, the engineers and geologists have developed a backlog (of potential wells to drill)."

The city of Long Beach, which gets an 8 percent cut of the proceeds, has seen its take increase from $16.6 million last year to $38.9 million this year.
Not bad. Lucky Long Beach.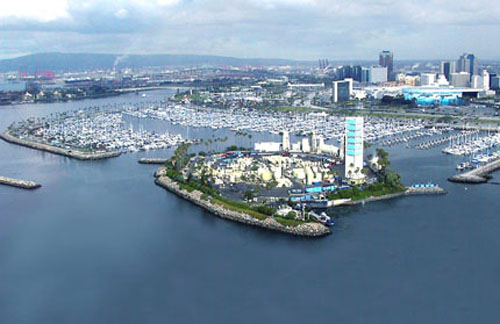 Occidental is reinvesting much of its share of the revenue in drilling more wells on the islands. There are two rigs on the islands now. In the fourth quarter, Occidental will bring in a third rig to drill even more holes.

Eureka Well Revived

The last offshore facility built in California before the moratorium kicked in was Platform Eureka, nine miles south of the THUMS islands.

The platform is one of four in the Beta Field, a collection of oil that has accumulated in folds along the Palos Verdes Fault, which runs between Torrance and the Palos Verdes Peninsula and runs south out to sea.
"Out to sea." So more platforms could potentially be placed beyond the horizon, out of sight . . . ? The article is illustrated with a photo of the platform, but we don't see it from the shore, so we don't know if it's half-shrouded in mist, like the ones off of Santa Barbara.
Though California's oil platforms were built by major companies with the resources to invest in big projects, almost all are now operated by independent firms that scavenge for profits in small market niches.

"These are tiny little projects inside huge companies, and they don't get the attention they deserve," said Darren Katic, president of Pacific Energy Resources, which now operates Platform Eureka. "We look at old, orphaned assets, and we redevelop them."

When Eureka was shut down, it was owned by Aera, a consortium between ExxonMobil and Shell. The leak was in one of three pipes that run between it and two sister platforms, Ellen and Elly.
Are these other platforms producing right now? The article doesn't say.
Pacific Energy Resources inspected the pipes and determined the other two were still usable, said Steve Liles, the company's operations manager.

"We came up with a phased approach of returning Eureka to production," Liles said. "Since it had been so long since it had been on, you had to show you could still produce it, and get some money flowing to pay for the other phases."

Pacific Energy Resources completed the purchase last year. In April, Eureka started producing oil again. Workers rotate on and off the platform every seven days. The platform is occupied 24 hours a day, and workers sleep in a dormitory.

Because the third pipe between Elly and Eureka is still broken, only eight of Eureka's 31 wells can be used. At 1,000 barrels a day, Eureka is producing just a quarter of what it did when it was shut down.

In the next phase, the company plans to put a sleeve inside the third pipeline, which is almost two miles long, and then restore Eureka to full production. A third phase would entail laying new pipelines in 700 feet of water.

Here, too, the high price of oil has had an impact.

"It's getting you payback quicker," Liles said. "What we thought would take four to five years to pay back, now we can get it paid back in two to three years."
What if we could get more oil off of the California Coast without compromising our pretty, pretty beaches?
I'd like to know.